Denys Wortman
Christmas Cards
Christmas time was always a happy time in the Wortman family. Dad always made a Christmas card that he sent to his friends. These cards were no ordinary cards. These were large, approximately 11" by 17"in size, and personalized to each family. He would send out about 250 cards each year and it was quite the production. First Dad would draw the card and have it printed. He would then put each person's name on the card and sometimes in two places. Mom would address the labels and I would have the job of rolling the cards and putting them in their mailing tubes. Many who received them would have them framed and to this day I sometimes find them still hanging on the walls of friends' houses. Their sight always brings back such fond memories. One of the joys of sending cards is receiving cards. Dad had many friends who were artists and we would receive many cards from them. Cards would arrive from Thomas Hart Benton, Walt Disney, Edward Hopper, Peter Arno, James Cagney and Reginald Marsh just to name a few. When Dad died in September of 1958 no card was sent that year. The following year Mom and I decided to continue the tradition. We would find a cartoon that Dad had drawn and put a new caption on it for Christmas. We continued this until 1965. At that point Mom decided that she would have to stop. The tradition ended then but now I am glad to have a place where again I can share them and they can be enjoyed.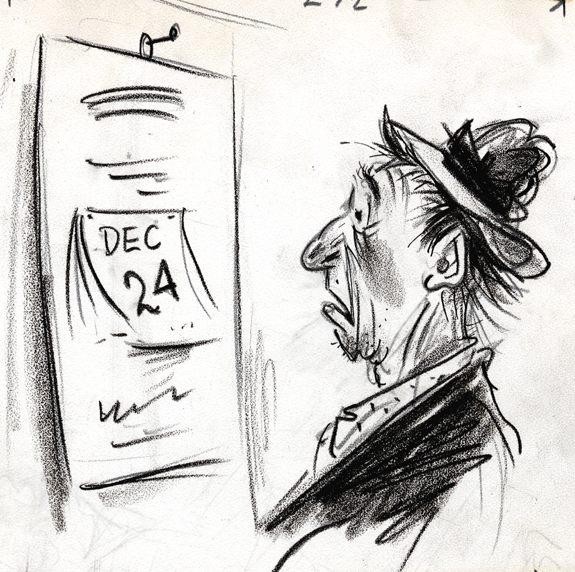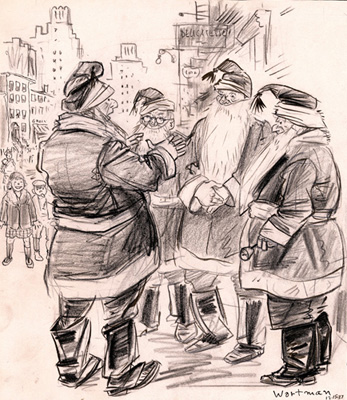 I don't know how it is - Children don't seem to believe in Santa Claus
December 15, 1937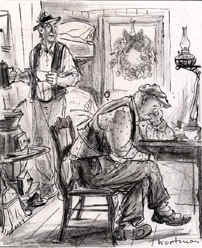 "Mopey, what's the use of trying so hard to think up a New Year's
resolution when you know you'll only break it anyway."
December 29, 1941

---
| | |
| --- | --- |
| | Early Christmas |
---
| | |
| --- | --- |
| Christmas 1940 | Christmas 1941 |
---
| | |
| --- | --- |
| Christmas 1942 | Christmas 1943 |
---
| | |
| --- | --- |
| Christmas 1944 | Christmas 1945 |
---
| | |
| --- | --- |
| Christmas 1946 | Christmas 1947 |
---
| | |
| --- | --- |
| Christmas 1948 | Christmas 1949 |
---
---
---
| | |
| --- | --- |
| Christmas 1953 | Christmas 1954 |
---
| | |
| --- | --- |
| Christmas 1955 | Christmas 1956 |
---
---
| | |
| --- | --- |
| Christmas 1960 | Christmas 1961 |
---
| | |
| --- | --- |
| Christmas 1962 | Christmas 1963 |
---
| | |
| --- | --- |
| Christmas 1964 | Christmas 1965 |